The Mummy and coffin of Siptah
19th Dynasty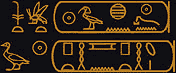 Length of Coffin : 1.90 metres
Height of coffin : 0.46 metres
Like the majority of coffins used for royal mummies in the two caches, Siptah was buried in a non-royal coffin. The coffin dates to the 19th Dynasty and most probably originally belonged to a woman. There is damage to the coffin, caused by robbers hacking off any gold that was on it - this was repaired by the 21st Dynasty High priests (the names and titles of the king have been written over the damaged areas).
Height of the body : 1.638 metres
The mummy had similarly been damaged by tomb robbers - the right forearm had been broken (21st Dynasty Priests repaired it by using woodem splints). Siptah's mummy is remarkable in the fact that it was originally thought to have have a 'club foot', this is now instead to thought to have been caused by Polio (possibly).