Mortuary Temple of Ramesses III
1 - Courtyard
A row of seven (?) pillars decorated with Ramesses III in the form of Osiris.
2 - Royal Palace
3 - Courtyard
The pylon fronting the courtyard is built from red granite, and is fronted with scenes in which Ramesses III is leading a number of prisoners he had captured in Syria before Amen and Mut. - For a full listing of these prisoners see below.
The Courtyard is again supported by Ramesses III / Osiris columns.
4 - Hypostyle Hall
5 - Sanctuary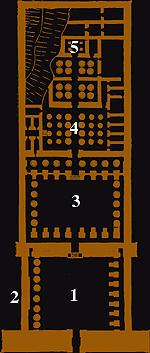 Decoration on the outer temple walls
On the South wall is a list of religious fesitvals,
On the North wall are ten scenes:
1. The King and his army setting out to war
2. Battle of the Egyptians against the Libyans, and the defeat of the Libyans
3. Slaughter of the enemy by the thousands and prisoners led before the King
4. The King addresses his victorious army, and an inventory is made of spoil captured.
5. Continuing the march
6. Second encounter and defeat of an enemy called Takare - their camp is captured and women and children flee in all directions
7. Continuing the march
8. Naval battle scene - the King and his army shoot the enemy with arrows from the shore.
9. Return to Egypt - couting of the hands
10. Return to Thebes. The King presents prisoners to Amen-Ra, Mut and Khensu. Speech of the prisoners begging to live so that they may proclaim the power and glory of Ramesses III