Year 6
On visiting his city of Akhetaten to view the building operations (still unfinished at that time - it was not until Year 8 that the majority of the buildings were completed), Akhenaten concerned himself mostly with the boundaries of the city and dedicating the entire site to the Aten (he had set up some boundary stelae the previous year - but he returned in Year 6 to finish and also to declare that he would not pass the stelae he had set up (this statement was thought to have meant that Akhenaten would never leave his city, but it is now generally accepted that teh boundary stelae were the obsolute limit for the city of the Akhetaten)).
Changes to spelling
Gradually between Years 8 and 12 various changes in spelling were enforced -
The spelling of the Aten was altered:
The spellings of other gods was not allowed, words containing the glyph of a god were changed so the glyph was spelled.
These changes became more severe as the reign continued enforing the will of the Aten over all other gods.
The Durbar of Year 12
The most important event perhaps from Akhenaten's latter years was his Durbar, or jubilee, of Year 12 - it was an occassion for a large gathering of foreign nations (vassal states and the other great powers in Asia) to bring gifts and pay homage to the Egyptian king. One of the questions raised by this durbar is why in Year 12? The traditional time for a king's first Durbar was at the earliest Year 30, - Akhenaten was 18 years too early!
C. Aldred has raised the theory that the reason by this premature festival was the final death of Amenhotep III, the end of the co-regency and Akhenaten finally becoming sole king of Egypt.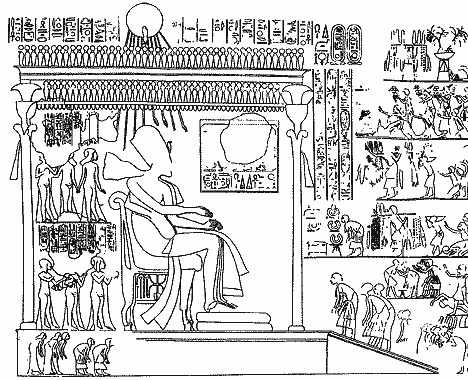 (copy of a relief from the tomb of Meryre II at Amarna, showing the royal family underneath the state baldachin while the representatives of Nubia and Kush present their gifts).